I love Disney Springs for all of the wonderful, shopping, dining and entertainment offerings that call Disney Springs home! There is a huge selection of stores and eateries to choose from, giving you endless options for a fun day or night out! And now I am excited to share with you that the list of places to check out at Disney Springs just got even longer! This past week Disney Springs welcomed Wolfgang Puck Bar & Grill to their lineup of amazing restaurants!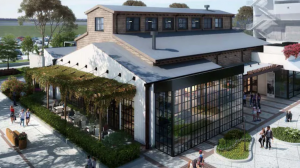 Chef Wolfgang Puck has a name well known around Disney Springs! Chef Wolfgang Puck's Counter Service location, Wolfgang Puck Express, located in the Marketplace section of Disney Springs has remained consistently open. In addition to his success at this popular quick-service location, the chef has had other Disney Spring's eateries! If you visited Disney Springs a few years back or even when the area was known as Downtown Disney, then you may remember his previous restaurant that was located over on the West Side, Wolfgang Puck Grand Cafe and Dining Room. Also on the West Side the famous chef also previously had a quick-service location which also closed in August 2017. (Fun Fact: The former location of Wolfgang Puck Grand Cafe will soon be home to Jaleo by Chef José Andrés.)
Now we are very excited that Wolfgang Puck has a brand-new restaurant in a new location in the Town Center section of Disney Springs, Wolfgang Puck Bar & Grill! Here the celebrity chef will be serving up his signature California cuisine with a new twist!
The restaurant is located in the Town Center of Disney Springs. You can find it in between the Town Center indoor shopping complex and the Coca-Cola Store. It is directly across from Guy Ferrari's Chicken Guy. Wolfgang Puck Bar & Grill has a much different atmosphere then the previous Wolfgang Puck Café. When you enter the new restaurant you immediately pick up on the very modern, fresh vibe that this new location has! It is very sleek and gives the Wolfgang Puck name a whole new identity.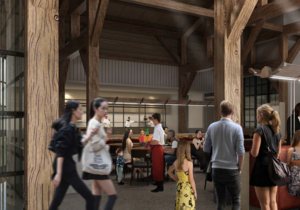 Once inside Wolfgang Puck Bar & Grill you will notice accents of red contrast against a pallet of neutral tones. There is a wide array of different seating arrangements including a space to host large party sizes! In addition to the crisp and clean colors, there are plenty of details that add visual appeal to the restaurant, from exposed wood beams to intricate lighting pieces. The location features many large windows giving the space a very bright and open feel. On the walls of the restaurant you can find many black and white portraits that bring a very personal touch into the space! Some of the black and white art is of fresh produce used to highlight the fresh ingredients you will find in your dishes.
All of these touches are great however, the true focal point of the restaurant is the on-stage kitchen where all of the culinary artistry is taking place! When you enter the restaurant to your left-hand side the first thing you are greeted by is the pizza kitchen! Chef Wolfgang Puck is known for his gourmet pizzas, so this is an appropriate welcome to the restaurant! Located in the back of the restaurant you will find the main open kitchen where all of the other wonderful dishes are coming to life!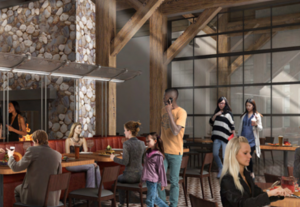 Now here comes the part that I personally am most excited for, there's the Gelato Bar! This Gelato bar is connected with the bakery area. You can find it to your right as you enter Wolfgang Puck Bar & Grill! Not dining in at the restaurant but in the mode for dessert? Then good news, Wolfgang Puck Bar and Grill has you covered! You will also be able to get this gelato from the restaurant's walk-up window! I will definitely be checking out this gelato bar on my next visit to Disney Springs!
So now let's talk about the restaurant's food! Wolfgang Puck Bar & Grill menu has received a very fresh makeover when compared to the chef's previous dining location, while still retaining some well-loved classics. This menu of "California cuisine," offers a wide selection of options. Everyone in your party is sure to find something they will enjoy!
I will definitely be making a dining reservation to check out Wolfgang Puck Bar & Grill on my next vacation to Walt Disney World this February! Looking at their menu I am looking forward to trying either the Basil and Shrimp Pizza or the Sea Bass! Be sure to check out this great new restaurant yourself next time you are in Disney Springs! Plan your next vacation now by contacting your Kingdom Magic Vacations Travel Planner! Our team is always ready to use their knowledge and expertise to help you plan your perfect vacation!