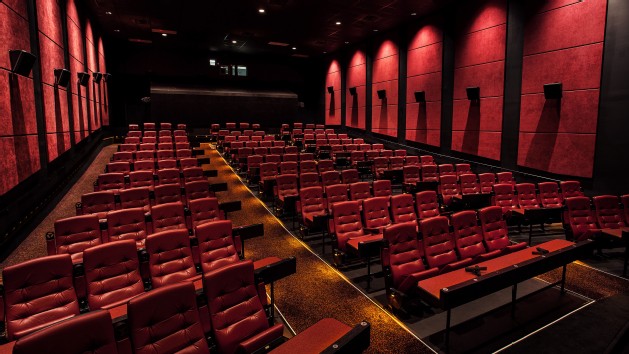 AMC® Downtown Disney 24 Dine-In Theatres
Enjoy dinner and a movie at this casual theatre restaurant located in the Downtown Disney Area. Combining mouthwatering dining and convenient seat-side service with state-of-the-art digital projection and sound, Fork & Screen® at the AMC Downtown Disney 24 takes "dinner and a movie" to a whole new level.
---
Amorette's Patisserie

Saunter over to this artsy yet sophisticated pastry shop and set your eyes on an exquisite gallery of goodies—think éclairs, New York-style cheesecake, cookies, gluten-free macarons and signature cakes, which you can watch chefs decorate.
---
AristoCrepes

Surprise your taste buds with a swoon-worthy selection of sweet and savory crepes. Delicious picks range from s'mores and key lime cheesecake to beef with horseradish cream and turkey with brie—refreshing tonics are also available.
---
B.B. Wolf's Sausage Co.

Huff, puff and blow your hunger away at this gourmet kiosk serving up artisan sausages—each with a clever array of toppings. Pair your favorite with a fountain soft drink or draft beer.
---
The BOATHOUSE

Set sail for upscale waterfront dining at Disney Springs—complete with retro dream boats, from vintage American Amphicars to romantic Italian Water Taxis.
---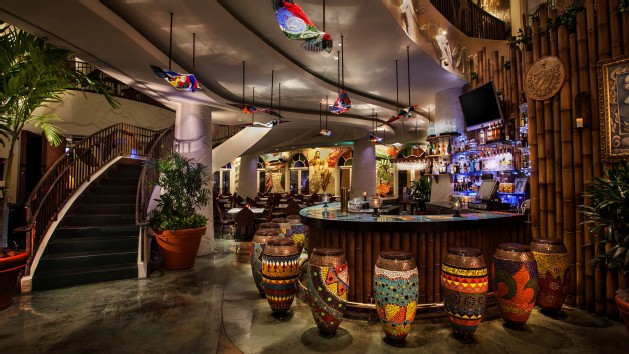 Bongos Cuban Café™
Favorite dishes include the "Cubano" sandwich, roasted chicken, seafood paella and Cuban-style skirt steak. The kids menu has hamburgers, chicken, pizza and more, and Guests 21 years of age and up can pair their meal with wine, mojitos, frozen cocktails and beer.
---
Bongos Cuban Café™ Express
Drum up some fun and refreshment with a quick stop at this Latin-themed hotspot where you can find all kinds of festive foods, including delicious Cuban sandwiches, seasonal salads, authentic empanadas and beverages like Cuban coffee too!
---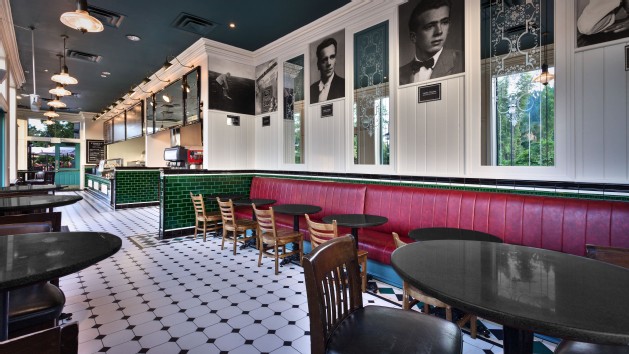 Cookes of Dublin
Enjoy the grub of the Irish with family recipes dating back to the 1930s: battered fish, chicken and sausages with hand-cut chips, savory pies and Atlantic scallops. Pies include beef and lamb, chicken and mushroom, and smoked haddock.
---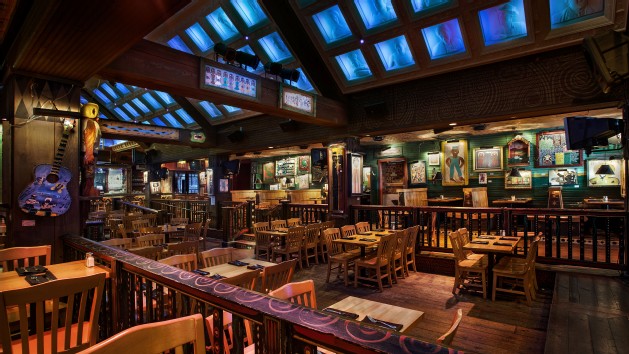 Crossroads at House of Blues®
Created by celebrity chef Aarón Sanchez, the mouth-watering menu from Crossroads at House of Blues includes such staples as Creole seafood jambalaya, slow-smoked pulled pork and shrimp with grits, as well as beefy burgers, street tacos and short rib meatball sliders.
---
The Daily Poutine

Try a classic Canadian dish—hot, thick-cut French fries loaded with tasty toppings such as cheddar cheese curds and beef gravy. You'll find 4 varieties along with an assortment of specialty sips.
---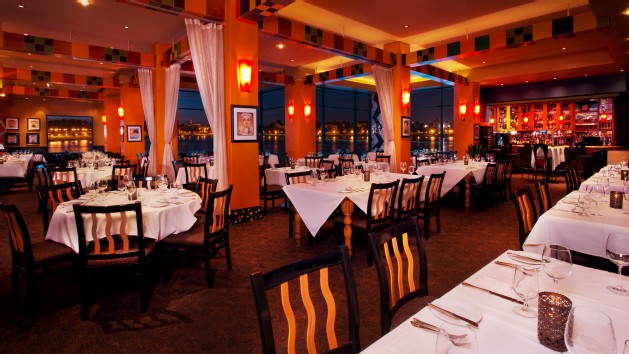 The Dining Room at Wolfgang Puck® Grand Cafe
Showcasing a sophisticated fusion of Asian and Californian cuisine, the menu features such signature dishes as miso glazed salmon, slow braised beef short ribs and Sichuan New York strip with crispy potatoes.
---
D-Luxe Burger

Satisfy gourmet cravings at this ranch-inspired eatery overlooking the springs. Artisanal gelato shakes and freshly cut fries with house-made dipping sauces fully complement the savory scene that has something for every burger aficionado.
---
Dockside Margaritas

Chill out at this laid-back waterfront margarita bar themed after a 1960s Florida fruit-stand—and enjoy some handcrafted margaritas, authentic Florida brews, live entertainment and delightful views of Buena Vista Cove.
---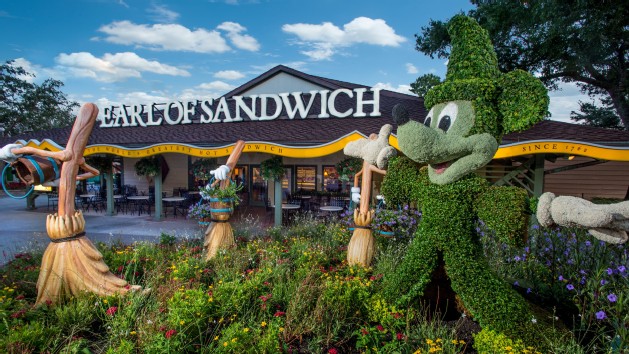 Earl Of Sandwich®
John Montagu invented the sandwich in 1762; his descendants perfected it! Try the signature roast beef sandwich on hearth-baked bread or any of number of hot or cold gourmet sandwiches. Soups, salads, wraps and desserts are also served.
---
Erin Mckenna's Bakery NYC

---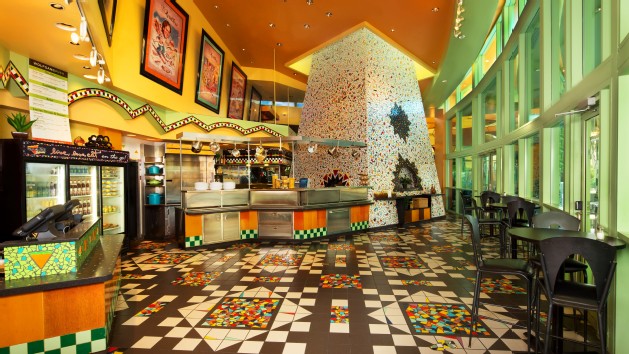 The Express at Wolfgang Puck® Grand Cafe
Enjoy gourmet on the go with specialty sandwiches, soups, salads, wood-fired pizzas and more. Dine on freshly made fare like butternut squash soup, Chinois chicken salad or a beef and gorgonzola pocket. Beer and wine are also available.
---
Florida Snow Company

Blow by for a flurry of tasty proportions with a chilly treat straight from the Arctic—it's Snow, the most colorful kind the world has ever known! Escape into a snowstorm of flavors and discover this totally fresh take on shaved ice.
---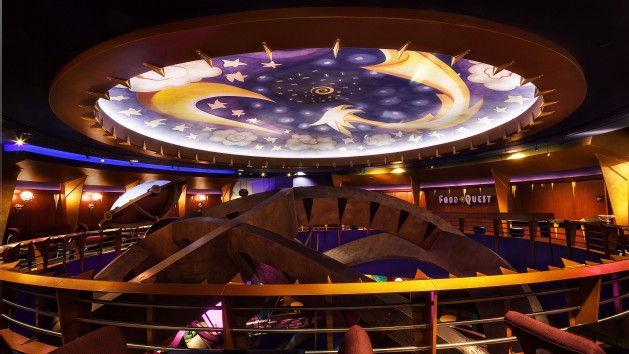 FoodQuest
Take a break from all things virtual to enjoy some real-life food, like the grilled chicken BLT, flatbread pizzas, salads, wraps and more. Wash it all down with a refreshing beverage and then conquer your sweet tooth with assorted cupcakes.
---
Food Truck – Fantasy Fare

Treat your senses to tasty grub from Disney theme parks spanning the globe—like sticky chicken & waffles inspired by those at Magic Kingdom park, the Croque Monsieur from Disneyland Paris and hand-dipped corn dogs from Disneyland Park!
---
Food Truck – Namaste Cafe

Savor the wild fare from Disney's Animal Kingdom theme park at this colorful rig! From a naan and samosa dipping safari to lamb kefta with tomato cucumber raita sauce, these untamed flavors will have your whole pack roaring with delight.
---
Food Truck – Superstar Catering

Dine like a celebrity on scrumptious creations like flatbreads, sliders or shrimp and lobster with macaroni and cheese.
---
Food Truck – World Showcase of Flavors

Take a victory lap with the globe-trotting eats of the Epcot International Food & Wine Festival at this popular food truck. From grilled chicken breast gyros to pierogi to grass-fed beef sliders, there's a cuisine to please all palates!
---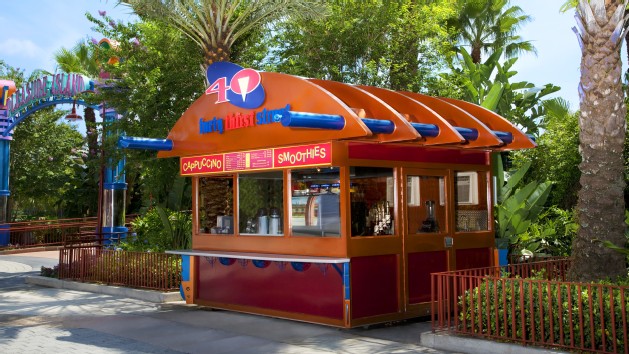 Forty Thirst Street Express
Looking for some gourmet grounds Downtown? Perk up with artisan-roasted Joffrey's Coffee: espressos, lattes, cappuccinos and mochas. Get even giddier with a shot of Bailey's or Amaretto. Frozen drinks, tea and cocoa are also served.
---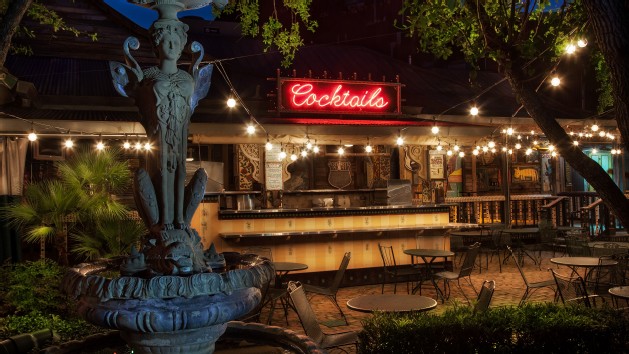 The Front Porch
Located between the restaurant and the concert hall of House of Blues Restaurant, this outdoor stage area offers cocktails and live entertainment nightly, 7 days a week. Some performances may be cancelled due to inclement weather.
---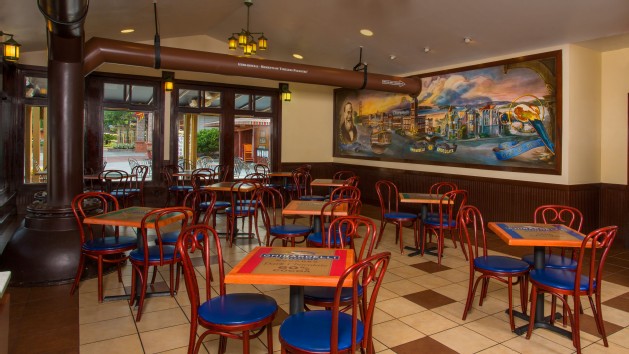 Ghirardelli Ice Cream & Chocolate Shop
The world-famous chocolatier delivers decadent sundaes smothered with hot, house-made fudge as well as chocolate treats and drinks. Strike It Rich with specialty San Francisco-themed sundaes, shakes and floats. Coffee is also available.
---
Häagen-Dazs® at Disney Springs West Side
Celebrate your sweet side with a frozen treat made like no other! Whether cup or cone, take your pick from a frosty assortment of flavors—including dazzling sundaes and frosty shakes as only the folks at Häagen-Dazs can create.
---
Jock Lindsey's Hanger Bar

Quench your thirst for action at this 1940s airplane hangar turned dive bar—ex-home of Indiana Jones' sidekick and pilot.
---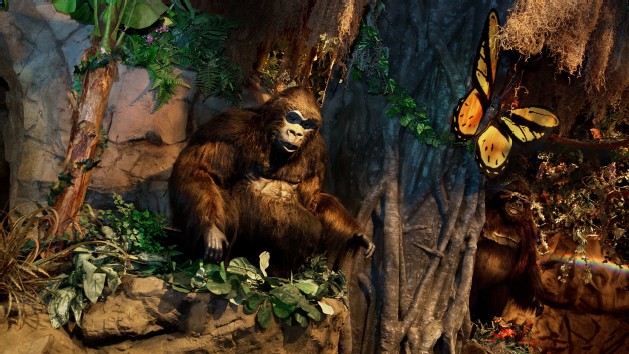 Lava Lounge
Cool off with a tropical cocktail at the bar of this refreshing Rainforest Cafe hotspot. Then, while your thirst gets quenched, peer out at picturesque views of Village Lake via the "lava tube"—a molten magma-inspired experience flowing in the walls near the restaurant's entrance.
---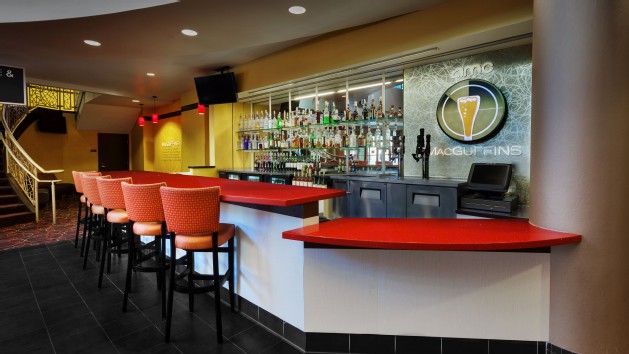 MacGUFFINS
Meet for drinks and eats before or after the movie at this modern lounge. Choose from a full bar menu and the AMC Dine-In menu, featuring entrees like bistro chicken mac and cheese. You can even take your food and drinks into the theater!
---
Morimoto Asia

Experience the finest in Pan-Asian cuisine as Chef Morimoto of Iron Chef America unveils his most exciting restaurant yet.
---
Morimoto Asia Street Food

Celebrate your senses as our chefs bring a timeless staple of Pan-Asian food culture to life with their unique culinary sensibilities.
---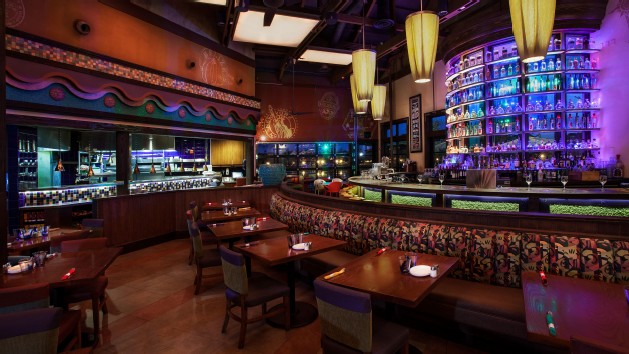 Paradiso 37, Taste of the Americas
This lively watering hole overlooking Village Lake features 2 levels and large windows for stunning lake views. Brightly colored booths and accents lend a Latin flair inside, while ample seating on the spacious patio and a dedicated outdoor bar make it perfect for dining al fresco.
---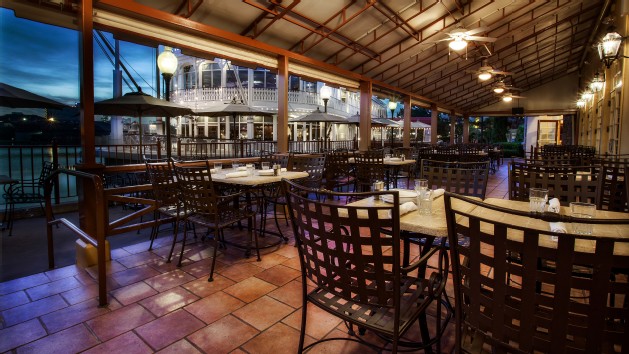 Portobello Country Italian Trattoria
On the waterfront patio or in the airy dining room, whet your appetite with house-made bread dipped in olive oil and roasted garlic, mouthwatering meatball sliders and caprese made with sun-ripened tomatoes and thick slices of mozzarella.
---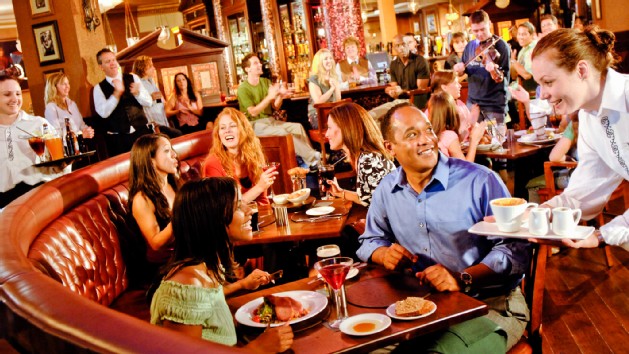 Raglan Road™ Irish Pub and Restaurant
At Raglan Road, you can tour a menu of modern cuisine as crafted by one of Ireland's best-loved chefs. Using only the finest ingredients, Master Chef Kevin Dundon has crafted a mouthwatering ensemble featuring favorites like shepherd's pie, fish and chips, and bangers and mash, as well as other innovative options inspired by the Emerald Isle.
---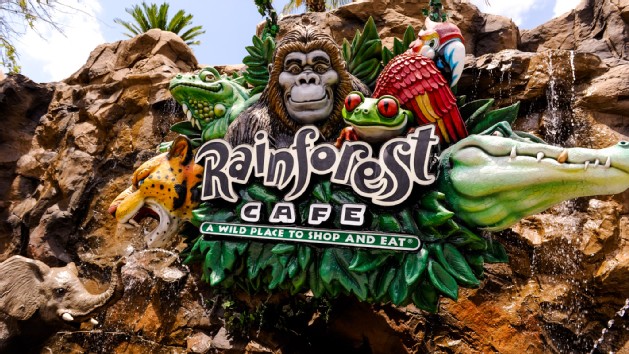 Rainforest Cafe® at Downtown Disney
Gather your party of explorers and journey deep into the Amazon, where you'll dine in the company of animated animals to the sounds of thunder claps and sudden rainstorms. Singing birds, trumpeting elephants, chest-pounding gorillas and schools of brightly colored fish welcome you to the jungle.
---
The Smokehouse

Savor slow-cooked favorites and BBQ classics at this simmering stop outside Crossroads at House of Blues. Sink your teeth into pulled pork sandwiches, smoked turkey legs and all-beef hot dogs, and then wash it all down with a beer, some wine or a cocktail.
---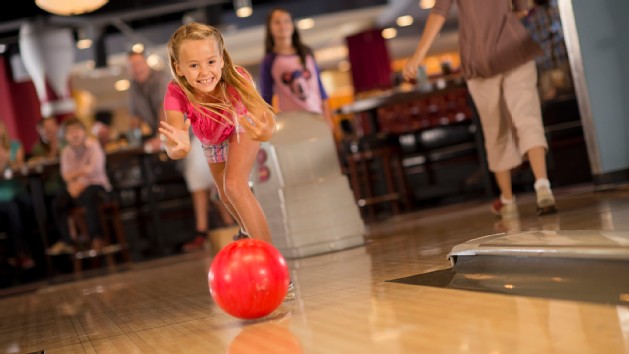 Splitsville Luxury Lanes™
Splitsville boasts a diverse menu of cultural flavors, prepared under the guidance of celebrity chef Tim Cushman. With such delectable offerings as fresh-rolled sushi, hand-tossed pizza and mouthwatering burgers, Splitsville is unlike any other alley you've experienced before!
---
Sprinkles
Treat yourself to sought-after, gourmet cupcakes baked fresh daily with unique flavors and high-quality ingredients. You can also succumb to late-night cravings with a visit to the perky, pink Cupcake ATM nestled outside.
---
STARBUCKS at Disney Springs Marketplace

Step right up to one of the world's most familiar cups where you can get your fill from a host of favorite brews and treats—like Starbucks espresso, frozen specialty beverages, savory Artisan sandwiches and an assortment of pastries.
---
STARBUCKS at Disney Springs West Side

Drop by this Disney Springs West Side destination to indulge your senses in a full line of STARBUCKS® treats, eats and more—this even includes a Clover Bar featuring a unique selection of special reserve coffees, each brewed to order!
---
STK Orlando

Retreat to this chic hideaway for an ultra-modern steakhouse experience—featuring an innovative menu, in-house DJ and a stunning outdoor patio.
---
The Sushi Bar at Morimoto Asia

Treat yourself to a rarefied sushi dining experience from acclaimed Iron Chef Masaharu Morimoto—intimate, elegant and unforgettable.
---
Tea Traders Cafe by Joffrey's

Delight in both the old and new traditions of tea preparation with a unique tea drinking experience in The Landing of Disney Springs.
---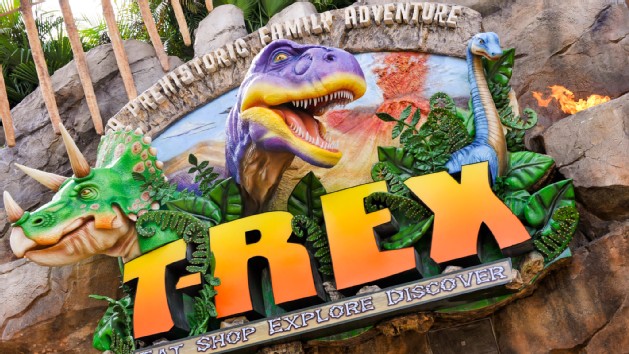 T-REX ™
Squawking pterosaurs, wooly mammoths, a massive undulating octopus and life-sized animatronic dinosaurs—including a 15-foot-tall T. Rex—make for a roaring good time. With themed rooms depicting diverse primordial landscapes from a color-changing ice cavern to a fern forest buzzing with giant wasps, you can spend ages wandering from area to area.
---
Vivoli il Gelato

Experience the hand-crafted goodness of Italian gelati, sorbetti, espresso drinks and more. After 85 years, this world-famous, family-run gelato shop from Florence, Italy has chosen to open its second storefront in history—right at Disney Springs!
---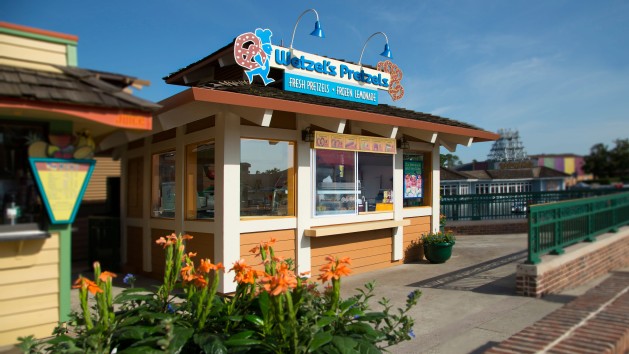 Wetzel's Pretzels at Disney Spring's Marketplace
Give in to the call of freshly baked flavored pretzels and sweet or savory dips like sweet caramel or pizza sauce. Wetzel dogs, Wetzel Bitz, cheese dogs, frozen lemonade, granita and soft drinks are also available at this walk-up kiosk.
---
Wetzel's Pretzels at Disney Spring's West Side
Whet your appetite with bite-size Wetzel Bitz—savory or sweet, complete with your choice of dips like pizza sauce and sweet caramel. Or, enjoy a classic baked pretzel with a twist, available in cheese, jalapeno cheese and pepperoni flavors.
---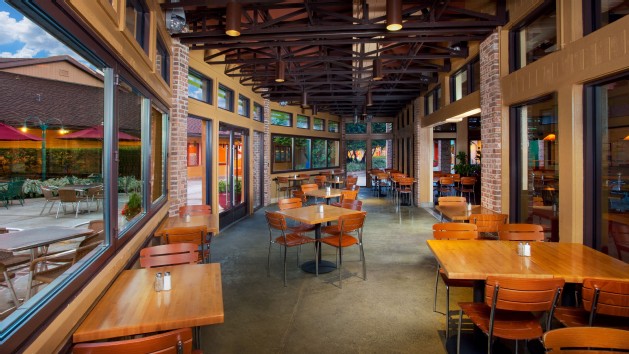 Wolfgang Puck® Express at Downtown Disney Marketplace
From delectable breakfast items like crispy cornflake French toast and Wolfgang's breakfast pocket to delightful lunch and dinner offerings that include artisan sandwiches, wood-fired pizzas and a one-of-a-kind menu just for kids, there are dozens of delicious options only an order away. Beverages, including beer and wine, are also available.
---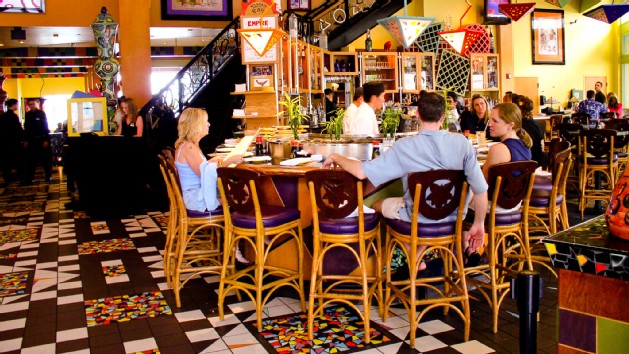 Wolfgang Puck® Grand Cafe
Delight in wood-fired pizzas, hearty pastas and fresh salads, plus favorites like oven-roasted salmon and flat iron steak. Start your meal with mouthwatering sushi, crispy calamari and creamy tortilla soup, and be sure to save room for such signature desserts as apple strudel, carrot cake and chocolate lava cake!
---
YeSake

Stretch your palate at this globally inspired kiosk featuring flavorful hand rolls, unique sake slush drinks and cold beer.