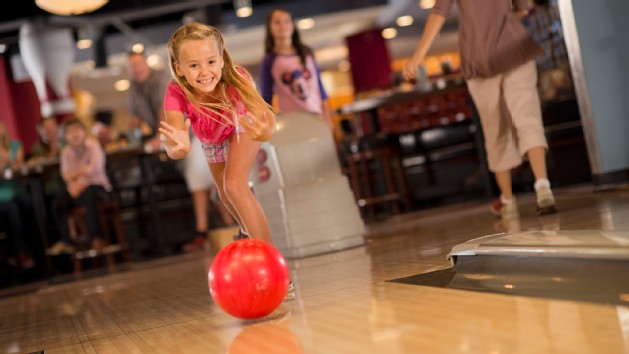 Roll in and rock out with the entire family for exciting food, upscale fun and classic entertainment.
Food That Spares No Expense
Come for the bowling and stay for the food… or, forget bowling and just enjoy the food!
Splitsville boasts a diverse menu of cultural flavors, prepared under the guidance of celebrity chef Tim Cushman. With such delectable offerings as fresh-rolled sushi, hand-tossed pizza and mouthwatering burgers, Splitsville is unlike any other alley you've experienced before!
Food and beverage service is available right on the lanes, as well as in the dining room or outside on the scenic patio.
---
A Whole New Spin on Bowling
Splitsville elevates bowling to a whole new level—it's not your father's bowling alley! Discover 50,000 square feet of cool retro interior, spanning 2 floors, with fantastic features that include:
30 bowling lanes
First-class food
Live music and dancing
Outdoor patio dining
Billiards tables
Merchandise shop
---
Day or Night, It's Game Time
No matter the size of your party, every single person pays the same price for nonstop fun! Prices below include bowling and shoe rental:
Rates:
Weekdays – Daytime: Open to 4:00 PM, $15 per person (tax not included)
Weekdays – Evening: 4:00 PM to Close, $20 per person (tax not included)
Saturday and Sunday: All day, $20 per person (tax not included)
Game times will vary from lane to lane, depending on the size of your party:
1 to 3 People: 1 hour
4 People: 1 hour and 15 minutes
5 People: 1 hour and 30 minutes
6 to 8 People: 1 hour and 45 minutes