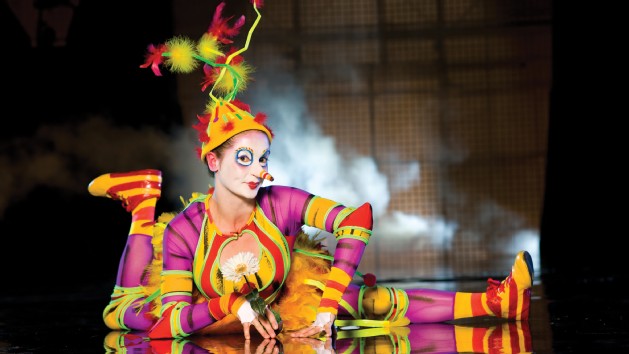 Be mesmerized by this extraordinary avant-garde spectacle as it makes the impossible, possible!
La Nouba – Let's Party!
Witness this international cast as they perform glorious feats of incredible strength and breathtaking beauty. The French phrase "la nouba" literally translates to "the party." And do these performers ever know how to celebrate! Acrobats, singers, trapeze artists, jugglers and clowns—more than 65 artists representing 15 countries—delight and mystify with daring acts of grace. A riot of color washes over every scene with the imaginative costumes, quixotic makeup and dynamic sets.
La Musique Magnifique
As the performers weave dreams onstage, the music—symphonic, rock or some unique fusion—is always evocative, emotional and inspiring.
---
Le Théâtre
Located in the Downtown Disney Area, the strikingly designed theater was constructed especially for Cirque du Soleil. Outside it resembles an enormous ivory circus tent. Inside, an elaborate mechanical stage includes movable glass cages, platforms and inventive sets, with world-class sound and lighting systems that create a dreamlike metamorphosis from performance to performance.
---
Downtown Disney Parking
Parking is complimentary at the Downtown Disney area, which is really buzzing with excitement as it undergoes an expansion. We recommend arriving 60 minutes prior to your show time.
On our busiest days, just follow the signs to the overflow parking and enjoy our complimentary shuttle or a quick walk back to the Downtown Disney area.
Staying at a Walt Disney World Resort hotel? Take advantage of complimentary transportation by bus or boat. Many area accommodations also provide or arrange transportation to and from the Downtown Disney area.