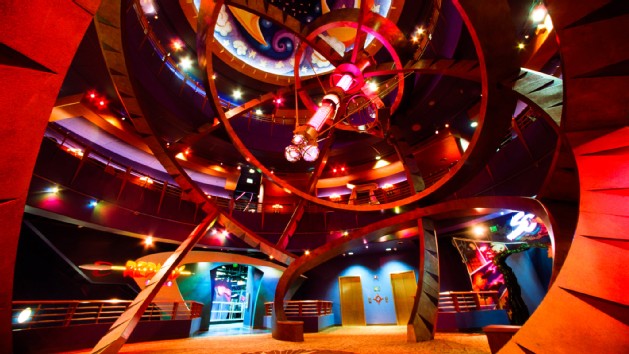 Discover 5 floors of fun including virtual worlds, 3D encounters and classic video games.
A Cool Collection of Cyber Sensations
This indoor interactive extravaganza offers a number of high-tech adventures for your gaming pleasure. The excitement includes:
Pirates of the Caribbean: Battle for Buccaneer Gold
Immerse yourself in a surround-screen world where blade meets blade, booming with swashbuckling action. Up to 5 players at a time can each choose their position on deck: steer your pirate's ship, fire cannons at sea-faring threats and more! (Height requirement: 35″)
Virtual Jungle Cruise
Grab a real paddle, hop on a raft and plunge down a prehistoric river in this 4D adventure. Avoid dangerous obstacles and catch helpful gizmos in the running rapids of this dinosaur world. You might even get splashed!
CyberSpace Mountain
Design your own roller coaster on a computer, with special assistance from Bill Nye the Science Guy. Make it as scary as you want. When you're done, jump in a simulator and ride your creation in full 360° motion—if you dare! (Height requirement: 51″)
Buzz Lightyear's Astroblasters
Pilot your own futuristic bumper car in a battle against other drivers! With up to one other player, you can scoop up "asteroids," load them into your blaster and fire away at the other cars. A hit sends them spinning in space! (Height requirement: 51″)
Animation Academy
Be a Disney animator! An instructor leads you through the process of drawing a Disney character, step by step. You'll be delighted when you see what you're capable of creating!
Mighty Ducks Pinball Slam
Become a human pinball as you bounce off of other balls and walls in this life-sized Mighty Ducks game. (Guests under 48″ tall should see a Navigator for assistance.)
Ride the Comix
Sling your sword at supervillains as you fly through a virtual comic book world!
Aladdin's Magic Carpet Ride
Fly through the alleys and streets of Agrabah on a hunt to find the magic lamp and save the Genie!
---
Classic Video Games in the Replay Zone
Check out the Replay Zone for classic arcade games! Find old favorites like Pac-Man, Ms. Pac-Man, Donkey Kong, Frogger, Space Invaders, Tron, Spy Hunter, Centipede, Asteroids, Q-bert and Mario Bros. It's a blast from the past!
---
Know Before You Go
Admission to DisneyQuest Indoor Interactive Theme Park might cost an additional fee. Admission is included with certain ticket types. Prices are subject to change without notice. Guests under 14 years of age must be accompanied by a Guest age 14 years of age or older.