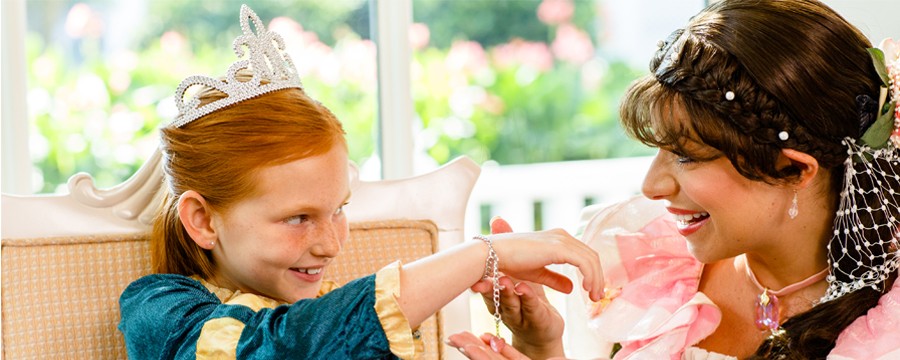 This fantasy-come-true showers young princesses with the royal treatment—plus a special visit from a Disney Princess.
Royal Revelry
Young princesses and princes are regaled with music, dancing, storytelling and more at this unforgettable, courtly tea.
"Rose Petal," a magical rose from Aurora's garden, has come alive to host the party, leading a special princess parade, storytelling, and sing-alongs. At this stately celebration, Princess Aurora herself may also make an appearance, so be sure to bring your cameras and autograph books!
Encouraged to dress as their favorite Disney Princess, young royals sip apple juice "tea" and feast on heart-cut peanut-butter-and-jelly sandwiches, ham and cheese sandwiches, grapes and Princess Cake.
Children must be accompanied by an adult, and the price reflects the individual cost per Guest for both one child and one adult. Additional children and adults are also welcome to attend at an extra individual charge per Guest. Adults can enjoy an extensive selection of traditional and herbal teas and dine upon a selection of cheeses, tea sandwiches (such as egg salad and chicken salad sandwiches), grapes and lavosh.
---
Regal Gifts
Each young partygoer receives exciting gifts as keepsakes of this storybook morning.
Princesses receive:
A special 18-inch My Disney Girl doll dressed in a Princess Aurora gown plus accessories
A ribbon tiara
Silver Princess link bracelet
Fresh rose
Special princess scrapbook page
"Best Friend" certificate for their new My Disney Girl doll
Each young prince who attends will receive a plush Duffy the Disney Bear, a pin, Pirate Mickey Ears and a regal crown.