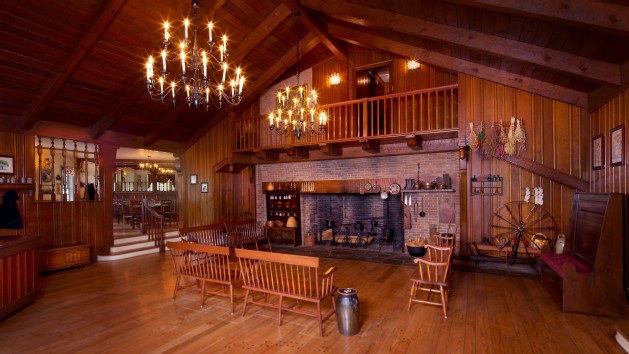 Pay tribute to our founding fathers as you dine at this stately colonial-style inn serving traditional New England-inspired fare.
Location: Magic Kingdom Park
Type: American Cuisine
Price: $$ ($15 to $34.99 per adult)
Reservations: Yes
Life, Liberty and the Pursuit of Deliciousness
Tuck into roast turkey and other American favorites in one of 6 historically themed rooms.
Step back in time to the days of Colonial Williamsburg and sup in splendor on the fall harvest bounty proffered by the Sons and Daughters of Liberty Tree Tavern.
Home of the Brave
Rich wood paneling, candelabra chandeliers, large brick fireplaces, and walls lined with period portraits and curios welcome the weary time traveler. Each of the 6 rooms commemorates a pivotal figure in U.S. history:
Benjamin Franklin
Thomas Jefferson
John Paul Jones
Paul Revere
Betsy Ross
George Washington
Be sure to wander the rooms and see if you can spot the signature artifacts famously associated with each American hero.
---
Gobble, Gobble!
Celebrate our heritage with hearty all-American eats and a traditional family-style Thanksgiving dinner.
For lunch, declare your hunger—and satisfy it—with the New England pot roast, our tavern keeper's favorite. Give thanks with the Pilgrim's Feast, a heaping helping of roast turkey, stuffing and mashed potatoes. Or hang your tricorn hat on a host of other delicious luncheon specialties.
A Stars and Stripes-Worthy Spread
Dinner is a full-on family-style feast: the all-you-care-to-enjoy Patriot's Platter, piled high with carved turkey breast, roast beef and pork tenderloin, accompanied by traditional sides.
For a sweet finish befitting a folk hero, try Jonny Appleseed's cake filled with apples and dried cranberries. Or melt into the Ooey Gooey toffee cake with caramel sauce and vanilla ice cream.
Young colonists can see by the dawn's early light and proudly inhale the Glowing Character Punch, served in a souvenir cup spangled with a light-up Disney character. Or raise a glass to freedom with the nonalcoholic, frozen Patriot's Punch, served in a collectible Liberty Tree Tavern mug.
---
Reservations
Advance reservations are strongly recommended and can be made up to 180 days prior to your visit.