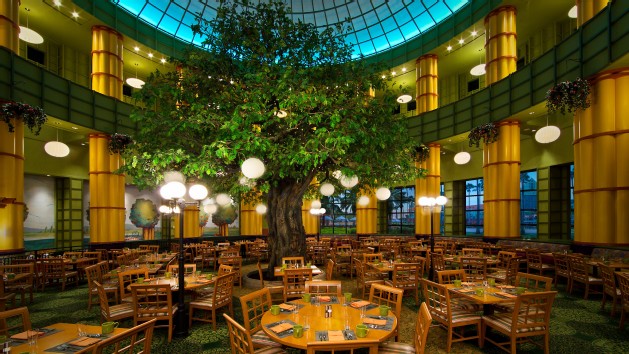 Savor the essence of Central Park at this enchanting eatery offering Disney Character Dining alongside a classic culinary experience.
Location: Walt Disney World Swan Hotel
Type: American, Seafood Cuisine
Price: $$ ($15 – $29.99 per adult)
Reservations: Yes
Tranquil Garden Setting
Dine beneath a majestic 25-foot oak tree in a space based on the gardens of Central Park in New York City.
Large, open windows allow the sunshine to spill inside during breakfast and lunch, while evening dinners are showered in an altogether different kind of ambience—courtesy of the captivating glow being cast by old-fashioned street lamps and paper lanterns.
---
Disney Character Dining
Enjoy a most unforgettable moment as some favorite Disney friends drop by to make your meal extra memorable! Each night at dinner—as well as during Good Morning Character Breakfast events on Saturdays and Sundays—a duo of Disney Characters will pop in, giving you the chance to introduce yourself for the first time or get reacquainted with a longtime pal.
Be sure to bring your camera and autograph books—this is one experience you'll want to capture for a lifetime!
---
Diverse Fare for Any Occasion
Treat your palate to a delicious menu of options, including delightful buffets and daily a la carte items. Whether you come for breakfast, lunch or dinner, one fact remains the same—the choice is always yours!
Start Things Off Sunny-Side-Up
Each morning, you can crack open the day with an exciting array of a la carte classics, from 3-egg omelettes, corned beef hash and quiche to biscuits and gravy, stone ground oatmeal, and Belgium waffles topped by an assortment of SuperFoods.
Guests who just can't seem to choose can still enjoy a scrumptious affair at an all-you-care-to-eat breakfast buffet, one packed with sweet and savory selections. Daily offerings include specialty egg dishes, breakfast meats, potatoes, pancakes, pastries, fresh fruit and more!
A Winning Lunch and Dinner
Come midday, Garden Grove's charming breakfast clears the way for a delectable all-you-care-to-eat affair, featuring an unlimited buffet of fresh, gourmet vegetables, never-ending soups and "toss it or chop it" salads—complete with your choice of house-made dressings.
Of course, what meal would be complete without a main course? Take your pick from queue of favorite flavor from the grill, like prime rib, half roasted chicken or cedar plank salmon, each served with your choice from a selection of the chef's daily sides.
And don't forget to leave room for an arrangement of decadent desserts too, created by award-winning pastry chef, Laurent Branlard!
---
Friday Seafood Buffet Dinner
Tantalize your taste buds every Friday with a grand oceanic adventure at the Seafood Sensation Buffet.
Sail away into this weekly all-you-care-to-eat event where you can get your fill from a mouthwatering menu of the best surf around, including stuffed lobster, shrimp, snow crab legs and scallops.
Got an appetite for turf too? Head off your hunger with a variety of other Garden Grove favorites, including roasted chicken and prime rib!
Reservations are recommended for this experience and can be made up to 180 days prior to your visit.
---
Pamper Your Palate on Christmas Day
Celebrate the most wonderful time of the year with a festive feast at Walt Disney World Resort!
On Christmas Day, you're invited to savor the flavor of the season with an enchanting meal your loved ones will undoubtedly cherish. Pick and choose from a collection of more than 15 magical dining locations, each offering its own unique take on a warm and mirthful meal!
Don't miss your opportunity to transform this jolly occasion into a memory that will last a lifetime—book an online reservation today!
Availability is limited. Dining events are subject to change or cancellation without notice.