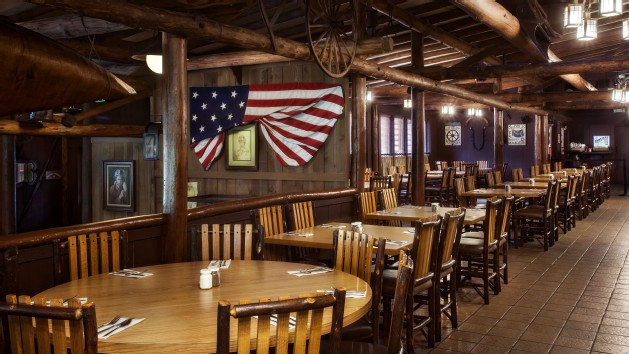 Feast on a down-home buffet for breakfast or dinner and lunch à la carte at Disney's Fort Wilderness Resort & Campground.
Location: The Campsites at Disney's Fort Wilderness Resort
Type: American Cuisine
Price: $$ ($15 to $34.99 per adult)
Reservations: Yes
Well Worth the Trek
Your hunger's at an end at Trail's End, where you can grub on all-you-care-to-enjoy American favorites in a remote setting.
Round up the whole settlement and sail across Bay Lake to the time of pioneers and a place of natural splendor. Nestled on 750 wooded acres of lush pine and cypress trees inhabited by forest wildlife, this popular dining destination is next to Pioneer Hall, home of the Hoop-Dee-Doo Musical Revue. Getting there is a trailblazing adventure unto itself! You can also reach Trail's End by bus or by car.
Beamed ceilings, split-log walls, mounted animals and a potbellied stove keep things suitably cozy and rustic as you and your kin tuck into a heaping spread of hearty countrified fare and new favorites.
Frontier Fixin's and Friendly Folk
As the rooster crows, help yourself to a bountiful breakfast buffet featuring Mickey waffles, biscuits and sausage gravy, scrambled eggs, fresh fruit and more vittles than you can shake a stick at.
At midday, head to the homestead for our à la carte lunch: beef chili, spicy grilled shrimp and andouille sausage, fried chicken and waffles, and other southern specialties. Young settlers have a special menu featuring kids' favorites. Don't forget to ask about the warm sticky bun sundae!
Sundown means suppertime, and there's no appetite we can't satisfy. Pull up to the chuck wagon for all-you-care-to-enjoy smoked pork ribs, hand-carved roasted meats, peel-and-eat shrimp, the catch of the day, a baked potato bar and more. Before you bid us happy trails, be sure to try our home-style fruit cobbler.
Pioneers 21 years of age and older: alcoholic tonics can be fetched from Crockett's Tavern next door at an additional cost. Cowpokes on the move, wrangle dinner from our takeout menu: fried chicken meals, pizza, nachos and more.
Reservations are recommended and can be made up to 180 days prior to your visit.
---
Pamper Your Palate on Christmas Day
Celebrate the most wonderful time of the year with a festive feast at Walt Disney World Resort!
On Christmas Day, you're invited to savor the flavor of the season with an enchanting meal your loved ones will undoubtedly cherish. Pick and choose from a collection of more than 15 magical dining locations, each offering its own unique take on a warm and mirthful meal!
Don't miss your opportunity to transform this jolly occasion into a memory that will last a lifetime—book an online reservation today!
Availability is limited. Dining events are subject to change or cancellation without notice.