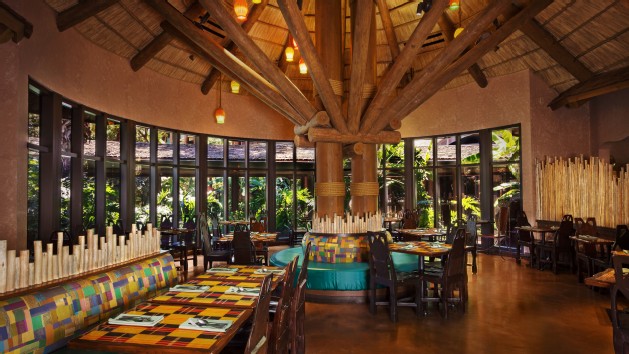 Resembling a lively African marketplace, this restaurant features all-you-care-to-enjoy buffets at breakfast and dinner.
Location: Disney's Animal Kingdom Lodge
Type: African, American Cuisine
Price: $$ ($15 to $34.99 per adult) – $$$ ($35 to $59.99 per adult)
Reservations: Yes
Family-Friendly Buffets
Under thatched roofs, savor vibrant flavors from over 50 African countries—along with favorite American classics.
Greet your day with a cup of full-bodied Kenyan AA coffee, tropical juice and a bountiful breakfast buffet. Selections may include made-to-order omelets, French toast, African pastries, carved ham, fresh fruit and corn beef bobotie—a type of South African quiche.
At dinner, watch chefs prepare grilled seafood, roasted meats, vegetarian specialties, fresh salads and house-baked pastries in the onstage kitchen. Kids can enjoy options like chicken nuggets, while Guests 21 years of age and up delight in unique South African wines—many of which are available by the glass.
Reservations are recommended and can be made up to 180 days prior to your visit.