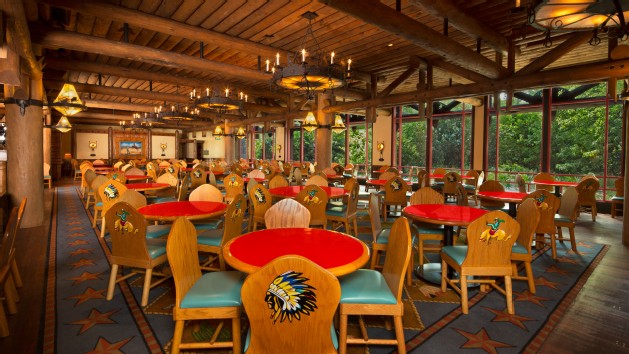 For a rowdy, rootin' tootin' good time, round up the whole family for hearty western fare and antics aplenty.
Location: Disney's Wilderness Lodge
Type: American Cuisine
Price: $ ($14.99 and under per adult) – $$ ($15 to $34.99 per adult)
Reservations: Yes
We Like to Horse Around
Gallop on over to this Old Western eatery for games and good eatin' served with attitude.
Tether your trusty steed and mosey into this log-cabin lodge with rough-hewn charm and colorfully named Cast Members who have a reputation for sassing customers. Take your seat in a cowboy or Indian chair and get into some finger-lickin' vittles. There's plenty to go around! Just be careful what you wish for, especially if it's ketchup.
Junior gunslingers will find all kinds of shenanigans to get into: Lincoln logs, coloring, spirited sing-alongs and even hobby horse races. And the wise-cracking wait staff will make sure that grownup cowpokes get in on the fun too!
---
Fine Frontier Fare
Bottomless platters and chuck wagon favorites will please the whole gang.
Come one, come all, just come hungry! Bring in the posse at the break of day for a hearty western omelet or our famous all-you-care-to-enjoy Family Platter, loaded with breakfast meats, eggs, potatoes and buttermilk biscuits.
Corral the wild bunch for a country-style lunch: chuck wagon Angus "bacon & egg" burgers, Kansas City-style pork ribs, smoked salmon quesadillas and more. Come sun down, sink your teeth into the all-you-care-to-enjoy Family Platter, a suppertime-exclusive featuring chicken, sausage, ribs and lip-smackin' cowboy sides.
Before you hit the trail, get a load of our most wanted desserts: apple caramel pie and the s'mores cheesecake. And with the Sheriff's Shake, there's more where that came from—a lot more. He keeps pouring till you say uncle!
Pardners 21 years of age and older, claim a bounty of beers, wines and concoctions sure to put hair on your chest. Yeehaw!
---
Pamper Your Palate on Christmas Day
Celebrate the most wonderful time of the year with a festive feast at Walt Disney World Resort!
On Christmas Day, you're invited to savor the flavor of the season with an enchanting meal your loved ones will undoubtedly cherish. Pick and choose from a collection of more than 15 magical dining locations, each offering its own unique take on a warm and mirthful meal!
Don't miss your opportunity to transform this jolly occasion into a memory that will last a lifetime—book an online reservation today!
Availability is limited. Dining events are subject to change or cancellation without notice.
---
Dine in on New Year's Eve
Count down the last remaining minutes of 2013 during an unforgettable meal at Walt Disney World Resort!
As the year comes to its close, take the opportunity to treat someone special in your life to a tasty finale—enjoy a memorable experience at more than 10 diverse dining locations, each setting the table with something extra special for New Year's Eve.
Welcome 2014 in just the right way, not only with open arms, but a satisfied palate too. Book an online reservation today!
Availability is limited. Dining events are subject to change or cancellation without notice.