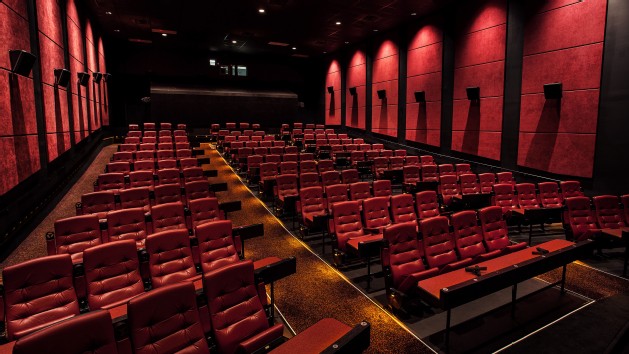 Enjoy dinner and a movie at this casual theatre restaurant located in the Downtown Disney Area.
Location: Downtown Disney, West Side
Type: American, Seafood Cuisine
Price: $ ($14.99 and under per adult)
Reservations: No
Dine-In Theatre
Feast on delicious food and cocktails paired with great movies in a big-screen theatre.
Combining mouthwatering dining and convenient seat-side service with state-of-the-art digital projection and sound, Fork & Screen® at the AMC Downtown Disney 24 takes "dinner and a movie" to a whole new level. And with comfortable reserved seating plus a personal call button for quick and easy assistance, it's the perfect choice for movie lovers looking for an enhanced cinema experience.
Guests must be at least 18 years of age or accompanied by a parent or guardian who is 21 years or older.
The Menu
Dining at Fork & Screen is always a blockbuster event. Tasty appetizers include classic favorites like crispy fish and chips and buffalo chicken wings. Burgers, sandwiches, tacos and flatbread pizzettas keep the plot rolling along, while delicious entrées including blackened salmon, mac and cheese and tenderloin tips will have you on the edge of your seat. Sundaes, New York cheesecake and your favorite motion picture treats provide a dramatic climax to your movie-going dining.
For the kids, Fork & Screen offers a full children's menu. For adults, beer, wine and a full cocktail bar are also available.