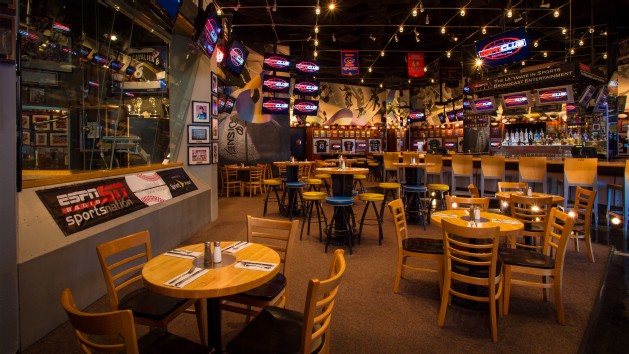 Serious about sports? Experience the ultimate in sports entertainment, dining and shopping at Disney's BoardWalk.
Location: Disney's BoardWalk
Type: American Cuisine
Price: $$ ($15 to $34.99 per adult)
Reservations: No
A Sports Fan's Paradise
Watch virtually any televised game from one of nearly 100 video monitors, each featuring global satellite feeds. At ESPN Club, you can take your pick of up to 30 different programs—even in the bathroom, you still won't miss a minute, as TVs hover above every stall!
Be sure to arrive early to secure your seat on game days; although it's a whopping 13,000 square feet, this place fills up fast.
Food, Drink and Live Action at Sports Central
Revel in the adrenaline-filled atmosphere of a stadium as you surround yourself with the best in televised sports entertainment. Kick off with fan favorites like the Red Wings and "Boo-Yah" Chili then get the home field advantage with sandwiches and burgers like the Reuben Panini or the Tailgate Pulled Pork.
Guests 21 and over, complete a pass with specialty cocktails and beers on tap as you watch the hottest ESPN shows on a monolithic 108-square-foot video wall.
For a truly interactive experience, stop by the Sports Central television and radio studio. Shows such as Mike & Mike in the Morning, Sports Reporters and Up Close have been broadcast from this fully functional facility. If you're on your game, you might catch a live interview with a celebrity athlete right there in the bar!
---
Interactive Entertainment on The Sidelines
Toss back a brew at the full-service walk-up bar as you view 25 satellite feeds from more than 40 monitors. It's a perfect scene to check sports scores, news and more as you chomp on appetizers like the Pub Nachos for 2 or the Overtime Fries!hen put your game face on and get in on the action: switch from sporting events to cutting-edge Sony Playstation games on the TV screen at your table.
---
Arcade Games and Shopping at The Yard
Game day continues at The Yard, a basketball court-like compound filled with sports video games for all ages. Go ahead and play—broadcasts are piped in from Sports Central, so you won't miss a second of the live action.
And in between sessions, be sure to shop for authentic ESPN merchandise and take one home for the team!
---
Feel Like an MVP with VIP Seating
Reserve a space for the duration of a game from the comfort of ESPN Club VIP Premium Club Seats!
Finally, fans can kick back and relax during any game playing on the big screen at Sports Central. No matter if it's the opening kick-off of an all-new season or the last remaining seconds of the final broadcast, enjoy first-class food and beverage service and a premium banquet-style experience without ever worrying about someone stealing your chair—it's a sporting chance to live in the lap of luxury!