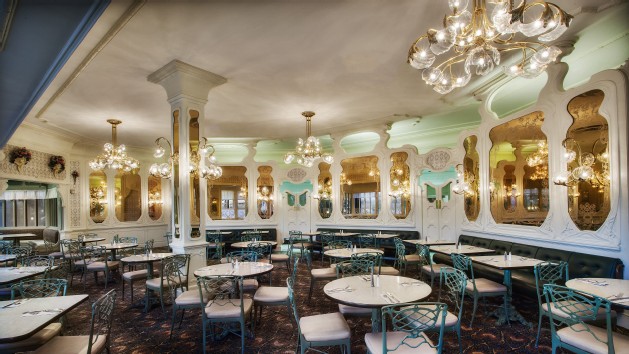 This hidden gem at Magic Kingdom park is a favorite for its fantastic family-friendly fare and accessible location.
Location: Magic Kingdom, Main Street U.S.A.
Type: American Cuisine
Price: $ ($14.99 and under per adult) – $$ ($15 to $34.99 per adult)
Reservations: Yes
Casual Eats in an Elegant Setting
Put your activity-packed day on pause with an impromptu but leisurely meal at this inconspicuous eatery.
Step inside this charming dining parlor awash in turn-of-the-century Art Nouveau touches, including beautifully embellished light fixtures and mirrors and an inviting solarium. From the main dining room, enjoy a stunning view of Cinderella Castle as you eat. The mayor has even been known to drop by—after all, he does live just down the street.
Located at the end of Main Street, U.S.A., around the corner from the Plaza Ice Cream Parlor, the Plaza Restaurant is one of Magic Kingdom park's best-kept secrets and a favorite of many. It may soon become one of yours, too!
Reservations are recommended and can be made up to 180 days prior to your visit.
---
Scrumptious Sandwiches and Sweet Treats
The same enticing menu of deli-style sandwiches, burgers and freshly prepared salads is served for lunch and dinner. The chicken strawberry salad is a surefire choice for those in the mood for something light. The grilled chicken sandwich, Plaza club and vegetarian sandwich featuring fresh mozzarella provide the middle ground, while the Angus chuck cheeseburger, cheese steak sandwich and grilled Reuben are among the heavier hitters.
Freely flowing fountain favorites hearken back to a simpler time when sweethearts sat and shared a shake, an ice cream float or a banana split. New York cheesecake and the brownie sundae are also featured for those seeking something more decadent. And the Glowing Character Punch, featuring a clip-on Disney character light, is sure to please the pip-squeaks in your party.