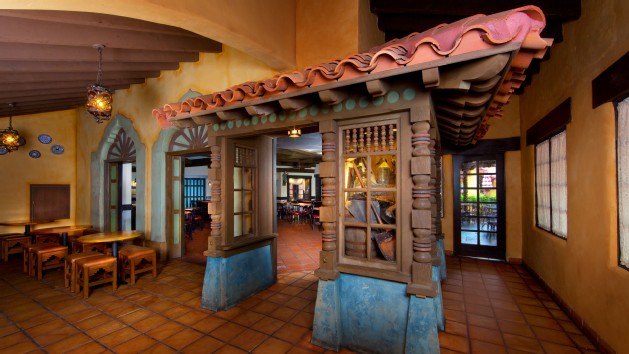 Plunder this pirate haunt for a few south of the border favorites, as well as an all-you-care-to-enjoy island dinner buffet.
Location: Magic Kingdom, Adventureland
Type: Mexican Cuisine
Price: $ ($14.99 and under per adult)
Reservations: Yes
Meet Yer Mateys for Mexican Fare
Avast! Tuck inside this delightful den of scoundrels and thieves to explore a bounty of eats, both savory and spicy!
Be ye hungry? Then sink yer teeth—whether gold or pearly whites—into a mutinous menu of Mexican entrees. At Tortuga Tavern, you can take yer pick from a buccaneer's bevy of the freshest food this side of Port Royal, including nachos and burritos prepared with chicken, beef or vegetarian style.
For ye civilized folk who prefer diggin' in with a fork, taco salads filled with hearty helpings of seasoned beef can surely be unburied; Caesar salads served with chicken "Arrrr!" also available.
And don't ye forget about the little ones! Help yer young mates swashbuckle their hunger with a Kids' Meal featuring cheese quesadillas, grapes, carrot sticks and their choice of a small lowfat milk or small Dasani® water.
Ye can even top off yer feast with a piece of triple chocolate cake or cookies 'n cream gelato—you'll be wishin' ye walked the plank should ye miss out on these tasty Tortuga treats!
---
Island Dinner Buffet
Guests and pirates alike—set sail for a tropical feast, the colossal size of which ye won't soon forget. Make way for the Island Dinner Buffet, an all-you-care-to-enjoy celebration fit for the most ferocious of scallywags!
For a limited time, from now through January 4, 2014, you can discover this treasure chest of delicious island favorites in Adventureland. Although subject to change, some of the menu's most tempting items may include:
Ocean harvest chowder with crackers
Lush garden greens with lite vinaigrette, Black Pearl balsamic dressing and ranch
Gulf grilled vegetable pasta salad
Shipwrecked tomato, mozzarella and basil salad
Sea salted green beans
Caribbean spiced sweet potato wedges
Treasures of mac and cheese
Rosemary-garlic pork steamship
Cannonball meatballs with marinara and parmesan
Banana leaf baked mahi with Gold Coast mango chutney
Barbosa's braised beef with julienne carrots, celery and pearl onions
Captain Jack's chicken breast with lemon and parsley
Assorted rolls with butter
Rice crispy bon bons
Mickey brownies
Assorted éclairs
No sugar added lemon cookies
Assorted cup cakes
Fresh fruit salad
So what are ye waitin' for? Indulge in the spoils of the Island Dinner Buffet while ye still can—just $35.99 for adults and $17.99 for children.
Please note: sales tax and an automatic 18% gratuity will be will be added to your bill, no matter the size of your party. Also, seating may be provided indoors or outdoors.