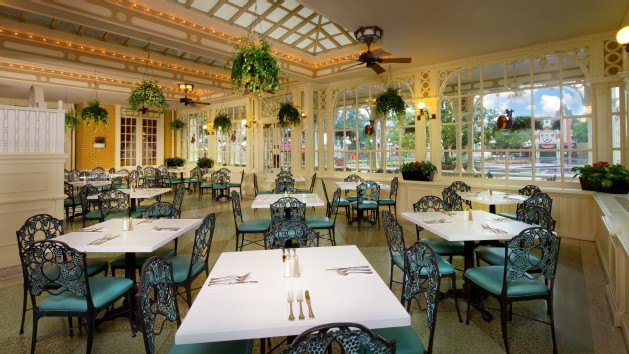 Everyone loves Italian, but this is no ordinary Italian restaurant! It's where Lady and the Tramp had their first kiss.
Location: Magic Kingdom, Main Street U.S.A.
Type: American, Italian Cuisine
Price: $$ ($15 to $34.99 per adult)
Reservations: Yes
Relive the Romance
Share spaghetti and meatballs and more at this fun eatery near the entrance of Magic Kingdom park.
Step inside this charming turn-of-the-century trattoria on Main Street, U.S.A., with its whitewashed balustrades, French doors and expansive front porch, which offers a fantastic view of evening parades. Take in the classic 1955 film Lady and the Tramp playing in the lobby and pictures of the 2 pooches gracing the wall.
Hopeless romantics are bound to gush over the central fountain depicting the cute canine couple, and more characters and scenes from the movie get you in the mood for food, friends, fun times and perhaps even amore!
Reservations are recommended and can be made up to 180 days prior to your visit.
---
Meats-a-ball and Much-a More
Tony the rotund restaurateur welcomes you to his establishment with food the family will love.
Begin your beautiful night (or day) with a seasonal appetizer platter or try the calamari. Tony's lunchtime favorites include meatball sliders, shrimp scampi and Joe's artisanal flatbread, made with Italian sausage and pepperoni. Molto delizioso!
Starry-eyed spaniels and humans alike will salivate over Tony's famous spaghetti and meatballs, chicken Parmigiana, ravioli and the seafood pasta. Mutts with a taste for something meatier will be more than satisfied by the braised lamb shank, New York strip steak or grilled pork tenderloin.
Gaze at la luna while you linger with your loved one over something sweet: pistachio crème brulée, tiramisu or the ice cream bomb, smothered in rich chocolate sauce.