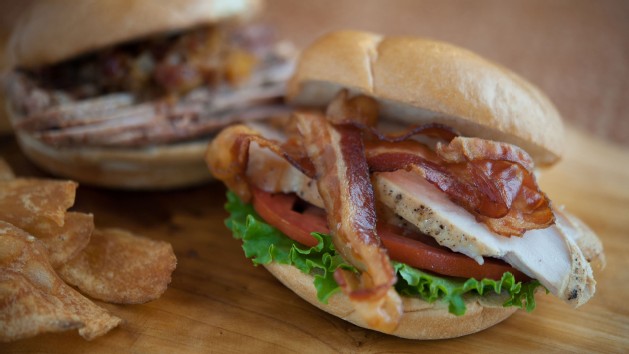 Hit the trail for heaping helpings of classic American fare, made fast so you can head back out on the open range.
Location: Magic Kingdom, Liberty Square
Type: American Cuisine
Price: $ ($14.99 and under per adult)
Reservations: No
Fastest Lunch in the West
Step inside this old-time, Wild West music hall for a quick and easy bite to eat.
Gaze upon the red-curtained vaudevillian stage and white balustrade balconies as you choose between 2 floors of ample seating. Then, listen along as enchanting sounds of an era long since passed echo out from a world-famous self-playing piano.
At high noon and beyond, tie up to the hitching post for an assortment of sandwiches such as turkey, ham and Swiss or pork brisket, served with apple slices or potato chips.
Satisfy your thirst with soft drinks and bottled water, available at an additional charge, or finish your meal with coffee before you ride off into the sunset.