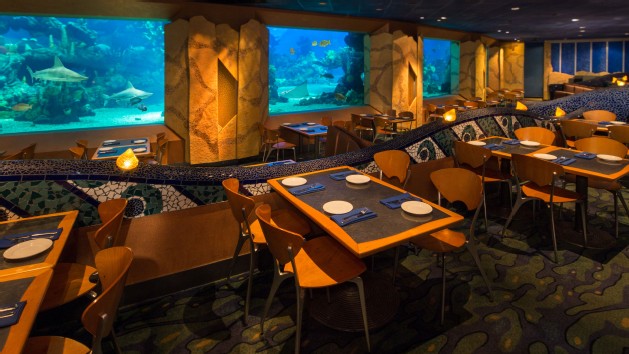 Watch over 4,000 sea creatures—including sharks, turtles, rays and fish—swim in the living coral reef while you dine.
Location: Epcot, Future World
Type: American, Seafood Cuisine
Price: $$ ($15 – $34.99 per adult)
Reservations: Yes
Seasonal Cuisine
Savor seafood favorites like Coral Reef lobster orecchiette pasta and grilled mahi mahi, as well as tender chicken and steak dishes.
The menu changes seasonally but may include vegetable-potato strudel, seared salmon and a sustainable catch of the day served atop roasted mushroom risotto. Kid-friendly options may include pizza, grilled fish and meaty macaroni.
Start your meal with such appetizers as crispy fried shrimp and crab cakes. Be sure to save room for orange cheesecake and chocolate wave!
Reservations are recommended and can be made up to 180 days prior to your visit.
---
Turtles, Fish and More!
Panoramic windows give every table a view into The Seas with Nemo & Friends aquarium.
See sharks, turtles and stingrays, plus over 85 species of tropical fish, swimming in the living coral reef that surrounds this gourmet restaurant. Identify the marine life before you with the help of your souvenir Fish Guides.
The largest inland saltwater environment ever built, The Seas with Nemo & Friends aquarium holds enough water to fill 54 Olympic-sized swimming pools!