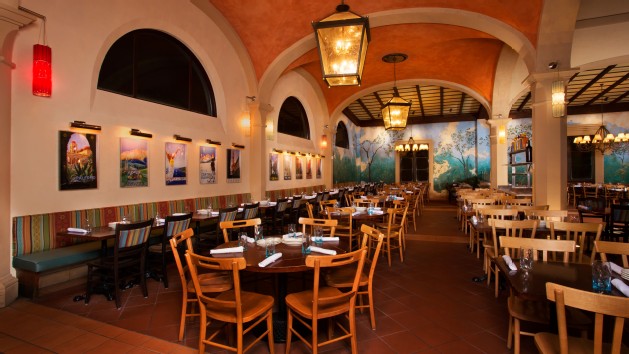 Discover authentic Italian cooking, including hearty pastas, fresh salads and pizzas perfected in wood-burning ovens.
Location: Epcot, World Showcase
Type: Italian Cuisine
Price: $$ ($15 – $29.99 per adult)
Reservations: Yes
Taste of Southern Italy
Take a culinary tour of Southern Italy at this family-friendly restaurant and pizzeria at Epcot.
Start your meal with fried risotto balls, vegetable soup and corn-crusted calamari with spicy tomato sauce. Then delight in spinach lasagna, veal parmigiana, wood-fired pizzas and chicken salads.
After dinner, treat yourself to Italian coffee—as well as tiramisu and chocolate gelato.
Pair your entrée with refreshing blood orange or strawberry fruit juice coolers. Guests 21 years of age and up can also enjoy Italian wines, domestic and Italian beers (available by the pint or pitcher) and specialty cocktails.
Reservations are recommended and can be made up to 180 days prior to your visit.
---
Authentic Neapolitan Pizza
Enjoy traditional Neapolitan pizza delivered right to your table, from cheesy quattro formaggi to sausage-topped piccante.
The thin-crust pizzas are made with fresh mozzarella cheese, San Marzano tomatoes and real Caputo flour imported from Southern Italy. Water for the dough is even sourced from a spring similar to Italy's Campania region. Pizzas are then cooked in wood-burning ovens named after the 3 active volcanoes in Italy—Mount Etna, Mount Vesuvius and Stromboli.
To ensure every detail is perfect, famed restaurateur Nick Valenti spent time in Naples studying the art of dough, crust, sauce and oven temperatures at the famous pizzerias Da Michele and Trianon before creating the menu at Via Napoli Ristorante e Pizzeria.
---
Patina Restaurant Group
Voted Critic's Choice for "Best Theme Park Restaurant" by Orlando Sentinel, Via Napoli was created by Patina. The renowned Patina Restaurant Group also operates the popular Naples Ristorante e Pizzeria at the Disneyland Resort and the Naples 45 Ristorante e Pizzeria in New York City, which was awarded the coveted La Vera Pizza Napoletana certification.