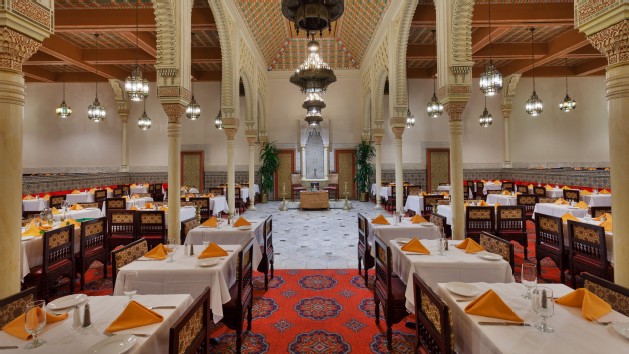 Savory cuisine and sprightly belly dancing transport you to the heart of Morocco.
Location: Epcot, World Showcase
Type: Mediterranean, Moroccan Cuisine
Price: $$ ($15 – $34.99 per adult)
Reservations: Yes
Culinary Oasis
Feast on such Moroccan delicacies as roast lamb, shish kebab, steamed mussels, couscous and brochette of chicken.
Stained-glass chandeliers bathe diners in a warm, dim glow, while intricate tile mosaics evoke timeless majesty. Select an à la carte favorite, or partake in a culinary adventure with the Taste of Morocco: Royal Feast, which includes everything from Harira soup and lemon chicken to Moroccan pastries and more. Children can also select kid-friendly fare like chicken tenders, pasta and hamburgers.
From the full bar, Guests 21 years of age and up can delight in such specialties as the Casablanca Sunset, the Sahara Splash and the Marrakesh Express.
Reservations are recommended and can be made up to 180 days prior to your visit.
---
Exciting Entertainment
In the splendor of a sultan's palace, belly dancers entertain Guests with spirited movements to percussive live music.
---
Candlelight Processional Dinner Packages
Enjoy guaranteed seating at a music-filled retelling of the Christmas story by a celebrity narrator.