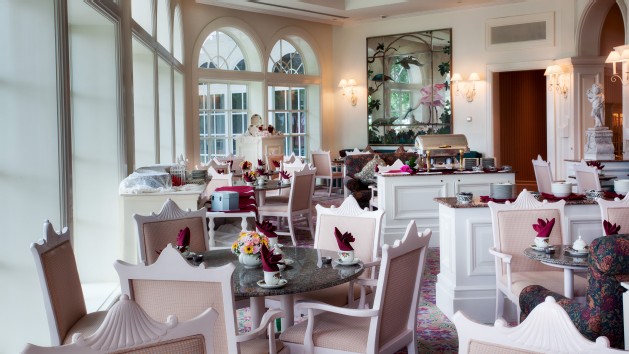 Delight in an elegant pair of tea times, each overlooking the grounds and pool of Disney's Grand Floridian Resort & Spa.
Location: Disney's Grand Floridian Resort
Type: British Cuisine
Price: $$$ ($35 to $59.99 per adult) – $$$$ (over $60 per adult)
Reservations: Yes
Afternoon Tea
Step through time to experience a traditional afternoon tea, served in grand British style.
Within the walls of the Garden View Tea Room at Disney's Grand Floridian Resort & Spa, prepare to treat yourself to a rare and unforgettable event as you indulge in the relaxing ambience of an era long since passed.
Tour the globe as you sip from a collection of international teas, all the while indulging in a delightful selection of sandwiches, cakes and other delicacies. Signature offerings include Buckingham Palace, a Gentleman's Tea Platter, Mrs. Pott's Tea, Sally Lunn Bread and the Grand Tea.
Daily Tea Times at Your Leisure
Turn back the hands of the clock for this delicate and delectable treat, 7 days a week. Located on the first floor of the Grand Floridian Resort & Spa, Afternoon Tea at the Garden View Tea Room takes place daily between 2:00 PM and 5:00 PM.
Starting at 4:00 PM each day, enjoy the atmosphere within the lobby as music begins to play, courtesy of a Grand Floridian piano player or the rousing rendition of a live band.
---
My Disney Girl's Perfectly Princess Tea Party
Young royals are invited to a fun-filled tea, complete with a special visit from a Disney Princess. My Disney Girl's Perfectly Princess Tea Party is held on select days at 10:30 am. Please note: An adult and child must be present to attend the event.
Regal Gifts
Each young partygoer receives exciting gifts as keepsakes of this storybook morning.
Princesses receive:
A special 18-inch My Disney Girl doll dressed in a Princess Aurora gown plus accessories
A ribbon tiara
Silver Princess link bracelet
Fresh rose
Special princess scrapbook page
"Best Friend" certificate for their new My Disney Girl doll
Each young prince who attends will receive a plush Duffy the Disney Bear, a pin, Pirate Mickey Ears and a regal crown.