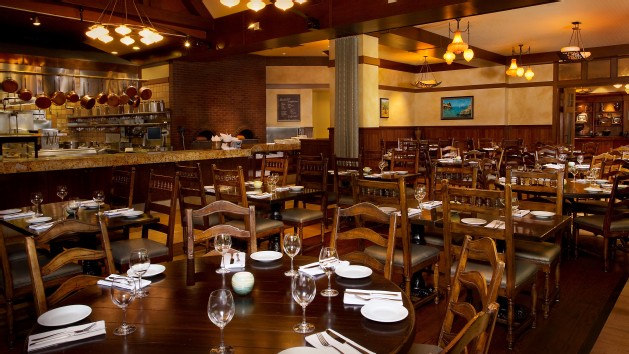 Savor the personal favorites of this popular celebrity chef at her casual Mediterranean restaurant.
Location: Disney's BoardWalk
Type: American, Greek, Mediterranean Cuisine
Price: $ ($14.99 and under per adult)
Reservations: Yes
Authentic Greek Cuisine
Feast on the specialties of a Greek kouzzina, including the cherished family recipes of chef Cat Cora.
Revel in the sights, sounds and aromas of the spirited open kitchen, as you enjoy fresh bread, Kalamata olives and Cat Cora's own award-winning olive oil.
Breakfast features American favorites with subtle Mediterranean influences, such as French toast baklava or poached eggs with olive toast, sweet potato hash and sausage.
At dinner, delight in oak-grilled steak, pork tenderloin, traditional whole fish, fisherman's stew and pastitsio—a Greek-style lasagna with cinnamon-stewed meat sauce.
Guests 21 years of age and up can pair their meals with Mediterranean sangria, Cat's "Ouzo-tini," Greek beer or one of Cat Cora's own "Coranation" wines from California.
Reservations are recommended and can be made up to 180 days prior to your visit. Kouzzina by Cat Cora is a licensed trademark of C2 Restaurant Group, LLC.