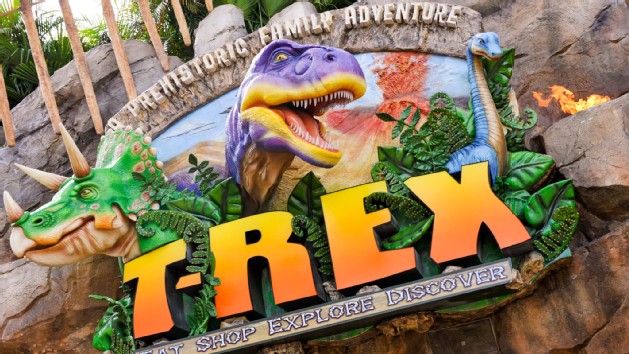 For dinosaur-themed dining amid prehistoric creatures and periodic meteor showers, head to the Downtown Disney Area.
Location: Downtown Disney Marketplace
Type: American Cuisine
Price: $$ ($15 – $29.99 per adult)
Reservations: Yes
Eat, Shop, Explore and Discover
Travel back 200 million years for a Jurassic adventure and megalosaurus-sized eats.
Squawking pterosaurs, wooly mammoths, a massive undulating octopus and life-sized animatronic dinosaurs—including a 15-foot-tall T. Rex—make for a roaring good time. With themed rooms depicting diverse primordial landscapes from a color-changing ice cavern to a fern forest buzzing with giant wasps, you can spend ages wandering from area to area.
Dine on family-friendly American favorites beneath luminescent jellyfish or in a very unique section: the midsection of a triceratops! And every 20 minutes or so, witness a meteor shower complete with rumbling and fiery "explosions."
Unearth the Past
Budding paleontologists, be sure to visit the Paleo Zone, a hands-on experience where you can dig for hidden dinosaur fossils, pan for precious treasures in Discovery Creek and learn more about "the time before time" through interactive displays.
Then stomp over to the Dino-Store, where you'll excavate exciting educational toys, apparel an Apatosaurus would adore and other Mesozoic merchandise. For a prehistory-making memento, assemble your very own plush pet dinosaur at the Build-A-Dino® By Build-A-Bear Workshop®!
Reservations are recommended and can be made up to 180 days prior to your visit.
---
Dino-mite Dishes, Desserts and Drinks
From salads to steaks, tear into tasty tectonic plates that every creature in your family will enjoy. Brought to you by the same folks behind Rainforest Café, T-REX features American fare sure to please herbivores, omnivores and carnivores alike.
Mammoth Main Courses
Hatchlings will be ravenous for the dinosaur-shaped Jurassic Chicken Tidbits and Paleo Pizza. Meanwhile, the evidence of your hunger is mounting with the Artifact Stack, a tower of crispy onion rings. Slink ahead with a Saber-Tooth Salad then investigate the Layers of the Earth Lasagna. Go big with the Gigantosaurus Burger, feast on the Triceratops Filet or munch on Mesozoic Mahi Mahi.
As the end draws near, extinction is imminent: Chocolate Extinction, a colossal fudge cake with ice cream and Butterfinger crumbs. If that doesn't finish you off, try the Ice Age Indulgence or the Meteor Bites!
Hunter-gatherers 21 years of age and older, head to the Watering Hole and knock back a Caveman Punch or the earth-shattering Category "5," available in a keepsake glass. A selection of wines and domestic and imported beers is also available.