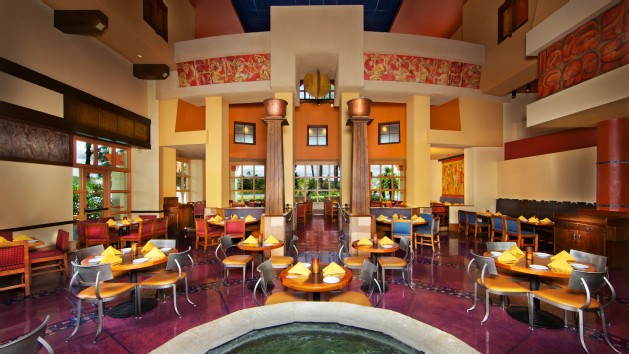 Savor tantalizing Tex-Mex cuisine that serves up a harmonious blend of New and Old World influences.
Location: Disney's Coronado Springs Resort
Type: American, Mexican, Seafood, Steakhouse Cuisine
Price: $$ ($15 – $34.99 per adult)
Reservations: Yes
Sizzling Fare, Southwestern Flare
Dine on traditional Mexican and American dishes at Maya Grill, serving dinner daily at Disney's Coronado Springs Resort. Here, the essence of ancient Mexico greets you in a majestic dining room accented by the welcoming Mayan motifs of fire, sun and water.
From traditional platters to our Chef's specialties, choose from an enticing array of Tex-Mex creations. Follow your entrée with a sumptuous dessert, such as coconut flan, fried ice cream or a sampling of dessert shots.
At Maya Grill, there's something savory or sweet to satisfy most every palate.