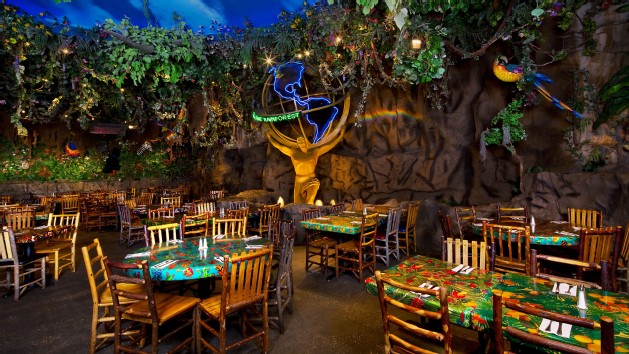 Traipse the jungle and tantalize your taste buds with flavorful American favorites and kid-friendly cuisine.
Location: Downtown Disney Marketplace
Type: American Cuisine
Price: $$ ($15 – $34.99 per adult)
Reservations: Yes
Walk on the Wild Side
A tropical rainforest retreat and delicious eats await you. Look for the erupting volcano!
Gather your party of explorers and journey deep into the Amazon, where you'll dine in the company of animated animals to the sounds of thunder claps and sudden rainstorms. Singing birds, trumpeting elephants, chest-pounding gorillas and schools of brightly colored fish welcome you to the jungle, lushly landscaped with tropical vegetation, banyan trees, waterfalls and a starry nighttime sky.
Feel far away yet at home all at once with American-style eats the whole family will love. Then swing by the Rainforest Café shop, where you can pick up plush animals, themed apparel and tropical trinkets to commemorate your Amazon adventure.
Reservations are recommended and can be made up to 180 days prior to your visit.
---
Amazing Amazonian Eats
Discover delectable new dishes as well as familiar terrain on your romp through the rainforest.
A Scrumptious Safari
"Rainforest Rascals" 12 and under: slither up to a plate of Python Pasta or dig into dinosaur-shaped Jurassic Chicken Tidbits. Bigger adventurers: erupt with excitement over the Lava Nachos then prepare yourself for a stampede when the Raging Thunder Buffalo wings hit the table.
For lunchtime explorations, try the Jungle Safari Soup, the Volcanic Cobb Salad or the Canopy Burger. Delve into dinnertime with the Primal Steak, the unbelievably fork-tender Paradise Pot Roast or Maya's mahi mahi and coconut shrimp.
Explosive Desserts and Cool Critter Cocktails
End your expedition into the heart of deliciousness with the Tribal Cheesecake or the Journey's End Sparkling Volcano, a chocolate brownie cake tower topped with ice cream, caramel and chocolate sauce—and a silver foil "sparkler"!
If you're 21 years of age or older, make for the Magic Mushroom Bar and get into some Monkey Business, a Mongoose Mai Tai or a Tropical Toucan in a souvenir glass.