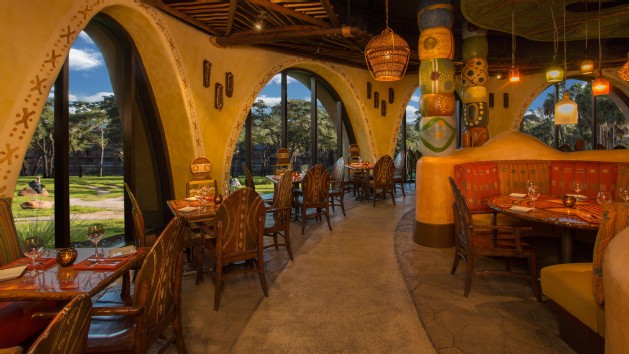 Experience the art of African cooking with Indian flavors, as exotic animals roam the Sunset Savanna before you.
Location: Disney's Animal Kingdom Resort
Type: African, Indian Cuisine
Price: $$ ($15 – $34.99 per adult)
Reservations: Yes
Family-Friendly Feast
Savor slow-cooked meats, zesty salads and vegetarian specialties as you discover exquisite African cooking with Indian flavors.
Step inside this East African-inspired eatery, which evokes a traditional spice market, decorated with handcrafted wares under the graceful branches of an acacia tree.
Start your meal with Indian-style bread service with 3 accompaniments, from sweet mango chutney to spicy red chile sambal.
For your entrée, select from tender meats slow-cooked in gravy—such as beef short ribs and spicy Durban chicken—as well as vegetarian dishes like paneer cheese-and-spinach. A range of sampler platters lets you choose a variety of flavors, and kid-friendly fare like burgers, pizza and grilled chicken is sure to please even the pickiest of palates.
Pair your meal with wine from South Africa, beer from India or Kenya, and specialty cocktails like the Malawi Mango Margarita. You can also enjoy refreshing non-alcoholic choices that include tropical juice, pomegranate lemonade and berry smoothies.
Reservations are recommended and can be made up to 180 days prior to your visit. Guests must be 21 years of age and over to order alcoholic beverages.
---
Zebras, Giraffes and More
Watch gazelles, zebras, giraffes, kudu, ostriches, cranes and more as you dine.
Over 200 birds and hoofed animals—from over 30 species—reside on the 4 savannas of Disney's Animal Kingdom Lodge. From your table or the nearby overlook, enjoy spectacular views of African wildlife on the lush Sunset Savanna outside. Inside, traditional artisan and market goods like woven baskets, gourds, "love note" necklaces and beaded geckos surround you at every turn.
---
Sanaa Lounge
The cozy Sanaa Lounge offers appetizers and salads, plus African wines, beers and signature cocktails.
Sample unique wines with a Discovery Wine Flight, and delight in specialty drinks like the Kande Coconut Cooler and African Starr Mojito.
Seating at Sanaa Lounge is first-come, first-served.