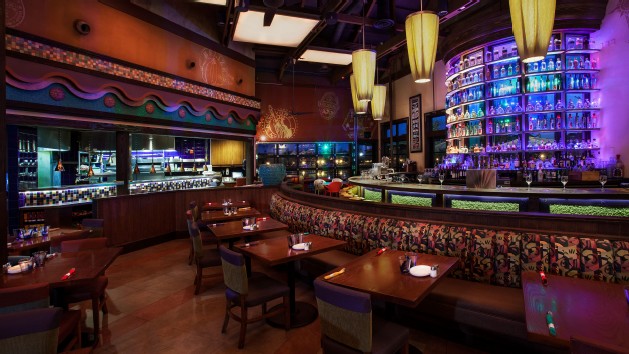 Take a culinary tour of North, Central and South America at this waterfront spot at Downtown Disney Pleasure Island.
Location: Downtown Disney, Pleasure Island
Type: American, Latin, Steakhouse Cuisine
Price: $$ ($15 – $34.99 per adult)
Reservations: Yes
Your Passport to Tasty Travels
Savor street foods and regional dishes, along with a bustling bar scene at night.
This lively watering hole overlooking Village Lake features 2 levels and large windows for stunning lake views. Brightly colored booths and accents lend a Latin flair inside, while ample seating on the spacious patio and a dedicated outdoor bar make it perfect for dining al fresco.
Live music from 6:00 PM until close, a "tequila tower" stacked with 37 varieties and an international wine bar qualify Paradiso 37 as a bona fide barfly hangout for Guests 21 years of age and older when the sun goes down.
Small Plates, Big Tastes
Vintage travel posters and oversized passport stamps on the walls underscore the globe-trotting theme while tapas plates take your taste buds on a tantalizing trip from one country to the next.
Journey to Central America for crazy corn on the cob, El Salvadorian pupusas and Yucatan-style shrimp ceviche. Then head south for skewers: Peruvian beef and Argentinean chorizo. The good old US of A is represented too, with deep-fried mac and cheese bites, bite-sized corn dogs and potato pancakes.
More substantial fare includes Colombian-style whole crispy hen, North American sausage and pepper hoagies, Chilean-style salmon skewers, and Argentinean skirt steak with grilled BBQ shrimp.
End your voyage on a sweet note with Chilean sopapillas with chocolate sauce, a quartet of mini ice cream cones or churros with caramel sauce.
Reservations are recommended and can be made up to 180 days prior to your visit.
---
Downtown Disney Parking
Parking is complimentary at the Downtown Disney area, which is really buzzing with excitement as it undergoes an expansion. We recommend arriving 60 minutes prior to your reservation.
On our busiest days, just follow the signs to the overflow parking and enjoy our complimentary shuttle or a quick walk back to the Downtown Disney area.
Staying at a Walt Disney World Resort hotel? Take advantage of complimentary transportation by bus or boat. Many area accommodations also provide or arrange transportation to and from the Downtown Disney area.